What to Expect from a Healing Touch Treatment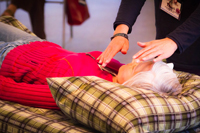 Healing Touch is a gentle, biofield (energy field) therapy that often facilitates a deep sense of calm and relaxation in the body-mind-spirit.
The treatment is typically administered while the client lies on a massage table with their clothes on. With your permission, the practitioner uses his/her hands to assess your biofield and proceeds to clear and balance it as needed using either off body touch (near body but no direct contact) or a gentle (still) touch over various areas of the body.
On occasion, one may experience an acceleration of the healing process and his/her symptoms may intensify for a brief time. When this happens, the recovery period of the illness is usually reduced.
Who can practice Healing Touch?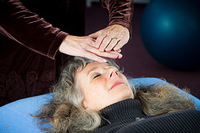 Healing Touch courses are open to all nurses, massage therapists, body therapists, counselors, psychotherapists, physicians, other allied health care professionals as well as individuals who desire an in-depth understanding and practice of healing work using energy based concepts and principles.
Janet Mentgen, the Founder of Healing Touch, believed that anyone could learn how to facilitate healing in others. As she observed thousands of students doing Healing Touch, she noticed that there was no difference in the outcomes of well prepared non-nurses to those of well prepared nurses.
Janet believed that anyone with a compassionate heart and a desire to be of service to others could become a practitioner of energy healing. All that was needed was a commitment to learn and grow.